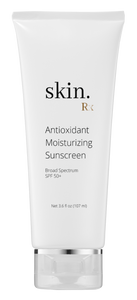 PRODUCT DESCRIPTION:
This two-in-one sunscreen moisturizer 
has been specially 
formulated with micronized zinc oxide and other sunscreen 
ingredients to provide the highest level of broad spectrum UVA 
and UVB protection. This product blocks most UV radiation from 
interacting with the skin and is designed to minimize the effect of 
the UV that does interact by neutralizing and quenching damaging 
UV induced free radicals.
BEST SUITED FOR:
SKIN TYPES: Normal, dry, very dry, sensitive
SKIN CONCERNS: Dryness, sensitivity, discoloration, aging
PRODUCT DETAILS:
Moisturizing base with powerful hydrators – squalane and hyaluronic acid
Broad spectrum UVA & UVB SPF 50+ coverage
Antioxidant enriched formula: Silymarin, Bisabolol, Ectoin, Activated Vitamin E, Green Tea Polyphenols, Caffeine USP
Tinted from concentrated levels of Green Tea Polyphenols
Fast absorbing, clean application – no white streaks
Universal tint offsets any white cast from the zinc oxide. Works well with a broad range of skin tones.
Excellent as a makeup primer
4 fl oz tube
HOW TO USE:
Apply liberally 15 minutes before sun exposure and before applying makeup. Reapply sunscreen after swimming, sweating, immediately after towel drying, and at least every two hours. For children under six months of age, consult a physician before use.
INGREDIENTS:
Active Ingredients:
Zinc Oxide 6.0%; Octinoxate 7.5%; Octisalate 5.0%; Homosalate 7%; Oxybenzone 5.0%
Free of: Gluten, Paraben, Oil, Alcohol and Fragrance