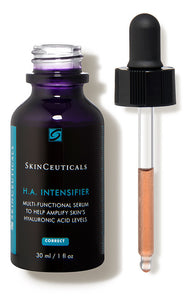 PRODUCT DESCRIPTION:
A multi-functional corrective serum to help amplify skin's hyaluronic acid levels.
BEST SUITED FOR:
SKIN TYPES: Dry, normal, o
ily, combination, sensitive
SKIN CONCERNS: Dehydrated, aging
PRODUCT DETAILS:
H.A. Intensifier is a multi-beneficial corrective serum proven to amplify skin's hyaluronic acid levels. This unique formulation contains a high concentration of pure hyaluronic acid, proxylane™, and botanical extracts of licorice root and purple rice to support skin's hyaluronic acid levels and deliver surface hydration, helping improve the visible appearance of firmness, smoothness, and facial plumpness.
This hyaluronic acid serum may be used as part of a home skincare regimen after dermal fillers; always consult with your skincare professional for individual at-home advice.
Amplifies skin's hyaluronic acid levels by 30%
Reduces the look of crow's feet, nasolabial folds (parenthesis around the mouth or laugh lines), and marionette lines (lines from the corners of the mouth down to chin) for smoother, firmer skin
Delivers long lasting hydration to visibly improve skin's texture
Unique serum-gel texture format creates a smooth canvas on skin
Paraben- and dye-free, ideal for all skin types
Can be used as home care after dermal fillers; always consult with a physician for individual regimen recommendations
HOW TO USE:
Once or twice daily, apply 4-6 drops to the palm of the hand and dab onto forehead, cheeks, chin, and neck. Blend the product into skin. If using in the morning, apply after vitamin C serum and before sunscreen. If using with a retinol at night, apply after retinol.